Req ID 2019-6004
Date posted 02/11/2019
Practice Risk Advisory
Address Hearst Tower 214 N Tryon Street Suite 2200 Charlotte
Postal Code 28202
Overview:
DHG is a certified public accounting and advisory firm offering assurance, tax and advisory services. With a growing international presence and ranking amongst the top 20 accounting firms in the nation, the firm combine's deep industry experience with a strong commitment to personal service. DHG understands the complexities and challenges of delivering both regulatory and strategic change initiatives by offering a fresh perspective and innovative solutions to complex risk, compliance, and regulatory concerns. The firm's consulting and advisory clients include Fortune 500 companies across a variety of industries in all 50 states and internationally.
Responsibilities:
• Work in collaboration with the Scheduling Coordinator and Financial Analyst to document, train, and implement new finance and operational processes across DHG RAS
• Track general operating performance and monitor specific service line results
• Compile and analyze monthly, quarterly, and annual forecasts and subsequent results
• Analyze engagement performance and proactive work with billing partners and managers to ensure engagements perform as planned
• Assist in the creation of scheduling forecasts, strategic business plans, and models
• Monitor compliance activity requirements for large and complex professional services contracts / programs.
• Ensure conformity and consistency in application of legal and business policies and practices across all RAS markets.
• Assist in the preparation of financial and business performance schedules for routine meetings and presentations
• Assist in maintaining scheduling tool to ensure reporting accuracy
• Respond to scheduling updates and ad-hoc requests sent to a centralized Scheduling mailbox
• Develop trend analysis of staff utilization to be used for workforce planning
• Demonstrated communication skills to include written, verbal, and effective listening skills
• Demonstrated problem solving as well as continuous process improvement skills
• Consistent track record of on time work product delivery and attention to detail
• Ability to handle confidential information
• Demonstrated analytical and organizational proficiency
• Ability to prioritize and multi-task while maintaining accuracy
Qualifications
• BA/BS degree in Business Administration, Accounting, Finance or related discipline preferred
• 1 + years of related experience required
• Experience in professional services preferred
• Advanced Excel competency, Microsoft BI, and database proficiency preferred
EEO Statement DHG endeavors to make the DHG Recruiting Website accessible to any and all users. If you would like to contact us regarding the accessibility of our website or need assistance completing the application process, please use this email link. This contact information is for accommodation request only and cannot be used to inquire about the status of applications or system support.
DHG is an equal opportunity employer. Qualified applicants will receive consideration for employment without regard to race, color, religion, sex, sexual orientation, gender identity, national origin, disability or protected veteran status. For our EEO Policy Statement, and if you would like more information on your EEO rights under the law, please review "Employment Notices and Disclaimers" link at the bottom of the web page. DHG is happy to work with our external recruiting partners in identifying best in class talent. As our firm is held to the highest standards of compliance and integrity in interviewing, we require resumes only be presented to representatives of the Talent Acquisition team after signing a DHG agency agreement.
Agency Recruiters: DHG will not be liable for any staffing or recruiting fee associated with the submittal of any unsolicited candidates to any DHG employee outside of the Talent Acquisition team or without a signed fee agreement with the Talent Acquisition team or use the following search form to find jobs that suit your specific career interests. or use the following search form to find jobs that suit your specific career interests.
Explore the area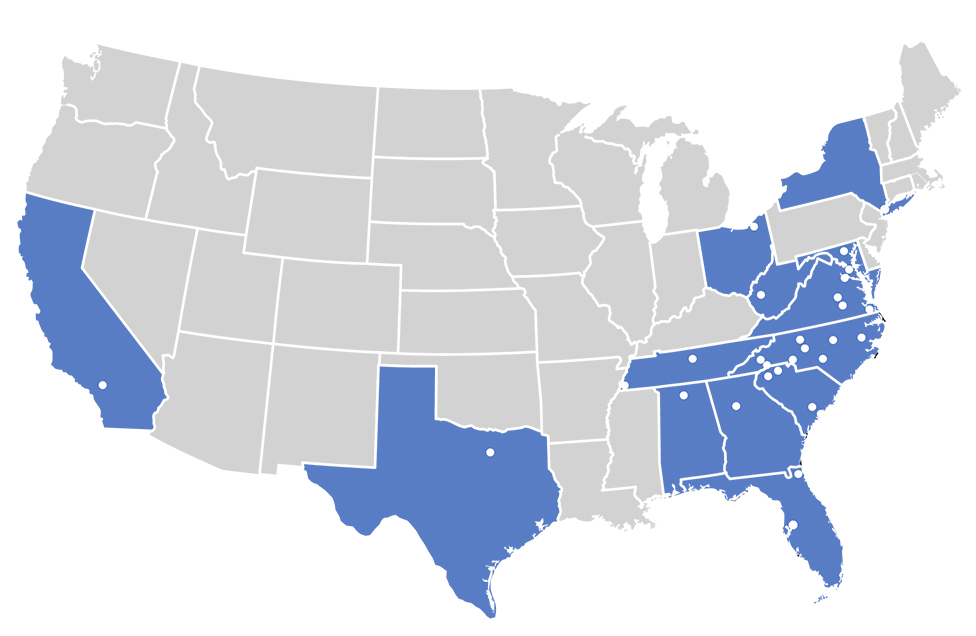 Check out where you could be working if you apply.
View map